Introduction
Welcome to Literacy!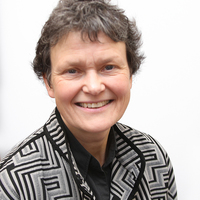 My name is Kersti Börjars and I am a professor of Linguistics at the University of Manchester. Together with one of our students, Alex Webb, I have put together these web pages about language.
'Linguistics' you may wonder, what on earth is that?! Well, sometimes the word 'linguist' is used for people who are good at learning foreign languages, but that is not the way we use it here.
Linguistics is the study of language – that includes things like the history of language, the meaning and structure of words and phrases, what sounds are used in languages and what the similarities and differences are between all of the 5000-6000 languages in the world!
How did you become a linguist?
For most people it is a little accidental how they end up in a particular job. This is certainly true for me; I became a linguist by accident!
I grew up in Sweden and when I was at school there I liked a lot of different subjects. We did three foreign languages; I did English, German and a tiny bit of Russian. However, I also really enjoyed maths and the scientific subjects.
I then moved to Holland and ended up going to University there, to study English language and literature. I went to The University of Manchester as part of this course. It was meant to be for just the one year, but I came back again and 20 years later I am still here!
Asking questions about the language you hear around you is a really good place to start studying. How do people pronounce things? What words do they use? Why do they put the words together exactly the way they do?
There are so many different kinds of interesting questions for linguists that we need your help. Why don't you became a linguist too and help us out with these questions. Let's start here with your literacy work!