Passport to Learning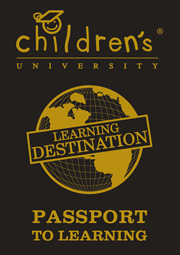 The Children's University of Manchester website is one of many learning destinations which provide high quality learning opportunities and activities as validated by the National Children's University:
If you are already a "Passport to Learning" passport holder you can earn a stamp by visiting and completing one of the following 4 subjects on this website:
You must complete 5 lessons in each of the subjects mentioned above to earn a stamp.
A code will appear after you complete each of the five lesson.
Copy, Print or Email yourself the codes as they appear. Keep them safe.
Once you have collected the five codes, you can claim a stamp for that subject by going to the "Claim your Stamp" page.
Enter the codes correctly and your stamp will be sent to the email account you provide. You should then print and cut the stamp out and stick it in your passport.
Each stamp is worth 1 hour of learning.
Good luck and enjoy learning!